adidas Golf not only turns out some of the best golf apparel and footwear, but is one of few brands that remains committed to making the world in a better place, on and off the course.  While goal No. 1 on the course is to "keep the ball in play," adidas is extending this mantra beyond the golf ball.
The Made To Be Remade Polo is made with the intention to remake the polo into something new once it reaches the end of its use. The way it works is that the polo is meant to be worn, worn out, and then returned to adidas, who will then grind it, shred it, and convert into something new.
In other words, the end of one product is the beginning of the next, with no compromise on performance. Golfers can keep it in play for as long as they wish and then return it to us so that the materials can one day be used again.
Jennie Ko, Director of Apparel Design, adidas Golf said:
"Our intention with the Made To Be Remade Polo is to invite the wearer into this circular product process, from creation to recreation… Golfers will still benefit by getting a product that performs on the course but will also have the opportunity to limit a product's impact on the environment."
While Made To Be Remade products have been released across other categories within the adidas brand, this is the first time it is being featured in golf. adidas approached the design of this polo in the same way they always have: to construct and use materials that promote mobility in the golf swing and feel good on the body. To make this one special, adidas implemented a customized jacquard pattern with fully looped yarns inspired by the continuous loop motion of all Made to be Remade products.
The polo will be offered in two limited-edition colorways—Crew Navy and Semi Turbo—and will come with a special QR code tag located near the hem on the right-hand side. Once this QR code is scanned, it will take the wearer to the Made To Be Remade digital hub. It's here where they can start their return once they've gotten the most out of the polo, learn more about adidas' sustainability commitments as a brand, and explore other Made To Be Remade products. In order to give wearers enough time to wear down the polo, the return for remaking process will open 100 days after purchase.
The Made To Be Remade Polo is currently available, but exclusively to members of adidas' adiClub, which is free to join. Members can purchase the Made To Be Remade polo on adidas.com and the adidas app. It will be available in men's sizing to start, with women's options available later this year.
Cover Image Via Instagram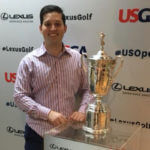 Eliminate Waste, Keep It In Play with the adidas Golf 'Made To Be Remade' Polo

– May 20, 2022

STYLE: FootJoy and Todd Snyder Collection Partner for Spring 2022 Collection

– May 18, 2022

Club Champion Continues Expansion at HQ and More

– May 18, 2022

BREAKING: Phil Mickelson Withdraws, Will Not Defend PGA Championship

– May 13, 2022

TECH: Arccos Releases Updated Gen 2 LINK

– May 13, 2022

EQUIPMENT: Club Champion Celebrates 100 Locations with $100 Fittings

– May 13, 2022

STYLE: Nike Announce Special Edition Air Max 90 Golf for 2022 PGA Championship

– May 13, 2022

TECH: Shot Scope Introduces Innovative "On Course" Game Analysis Tool

– May 11, 2022

EQUIPMENT: Cobra Releases New KING Forged Tec, Forged Tec X Irons

– May 3, 2022

STYLE: Lyle & Scott Brings Premium, Performing Looks to the Course

– April 26, 2022
View All Posts
YOU MAY ALSO LIKE THESE STORIES