After the nearly three-year path to golfer qualification has officially come to an end, attention is now turning to the Kasumigaseki Country Club outside of Tokyo, where players battle for their chance at history. As the official uniform provider for USA GOLF, we are proud to announce today the uniforms that the American team will wear at both the men's and women's events in Tokyo.
After becoming the official uniform supplier for USA Golf, we began working with Tokyo-based artist Hiroko Takahashi on concepts of how red, white and blue would appear in Tokyo. Takahashi's designs are iconic and instantly recognizable through the use of minimal elements such as circles and straight lines that are meant to represent infinite possibilities. While she has worked with us on developing products in other categories of our brand, designing these uniforms for golf was a first in her career.
Takahashi used a well-known Japanese saying as inspiration for the various designs for each day of competition. The saying comes from Shingen Takeda, a pre-eminent Japanese warrior of the Sengoku period, who inspired others to be "fast as the wind, as quiet as the forest, as daring as fire and immovable as the mountain".
Each day, both men's and women's uniforms represent one of these traits through Takahashi's design aesthetic: Round 1 – Wind, Round 2 – Forest, Round 3 – Fire, and Round 4 – Mountain.
I think I was able to design from a different perspective than I design products that anyone can wear. I think golf is a unique sport in the sense that it is an individual sport, but you can also play it with a team.
With this in mind, I designed the USA GOLF uniforms with circular and line connections and imagined how the forces of individuals come together as one and expand into infinite possibilities.
Hiroko Takahashi
For the men's team, the polos will be a mix of our Ultimate365 and HEAT.RDY lines so that players can stay relaxed and cool as the temperatures rise in Tokyo. Our HEAT.RDY materials are made from lightweight Aqua-X yarns that wick away sweat; And we've built in body ventilation zones where athletes need them most so that they can cope with the heat:
Day one (wind): USA GOLF players wear our lightweight Ultimate365 polo in a bold white color scheme with bold blue stripes based on Takahashi's design. The polo is extremely breathable thanks to mesh inserts in the back and has materials that move with the athlete.
Day two (Forest): Our sport-inspired polo features a blade collar with integrated mesh zones and HEAT.RDY materials to promote breathability where players need it most. The sporty look includes a light gray undertone print with stripes and circles that combine to form a larger design. A traditional collar option will also be available.
Day three (fire): Players will wear a bright red polo that is adorned with Takahashi's unique design representative of fire. The lightweight Ultimate365 polo builds confidence with features like four-way stretch for more freedom of movement during the swing and side mesh panels to keep players cool.
Day four (mountain): As the only blue polo as part of the uniform, players will start the last day with another sporty-inspired polo with a blade collar for a modern and athletic look. As on the second day, the polo features our HEAT.RDY material to promote breathability and has a distinctive design on the chest. A single red stripe from the collar to the sleeves provides an additional design detail. A traditional striped rib collar option will also be available.
Players also have the option to wear a long-sleeved Ultimate365 polo that is breathable but with UPF50 sun protection to keep people off the top.
For bottoms, men have blue pants made from our Meltaway material; Players have a soft and premium feel, but with ventilation to encourage air circulation during play. There is also a white option made from our lightweight material with twill for a distinctive look and style.
For the women competing on behalf of USA GOLF, the uniforms come in a mix of our HEAT.RDY and AEROREADY materials so they can stay cool and do their best on the pitch:
Day one (wind): On the first day of the competition, the athletes wear our crew mock short-sleeved polo and a white color scheme with blue stripes on the body. In addition to the sporty look, the polo is equipped with light fabric on the back to promote ventilation and keep it cool. For bottoms, players have our 16 "Ultimate Solid Skort, which comes with a tied waistband and bright red underpants that add a splash of color.
Day 2 (Forest): The players have the choice between our light long-sleeved shirt (weighing only 127 g) with a stand-up collar and a short-sleeved or sleeveless polo with a sports collar construction. All of them will feature the same pattern of Takahashi's designs and are HEAT.RDY materials to keep them cool. Women have the option of wearing specially designed blue over-the-top woven shorts with a tied waistband and 3-inch inseam; with USA logo and side slits in red for additional color. Side pockets and a back pocket on the right give it a sleek and athletic finish.
Day 3 (fire): The upper and lower parts are all red – representing fire – to bring some energy to the course on the day before the last lap. Athletes wear our zip mock polo in short-sleeved and sleeveless versions. It includes a hidden zipper for a neat finish. For pants, players have the option of using our 16-inch skort in A-line silhouette with a tied waistband.
Day four (mountain): When the USA GOLF women make it to the finals, the players wear our sporty-inspired dress with a stand-up collar and concealed zip. This lightweight sleeveless dress has an athletic cut throughout to encourage confidence with every swing while keeping players cool and comfortable.
The men's and women's clothing will feature the same print samples from Takahashi's designs for each day of the competition.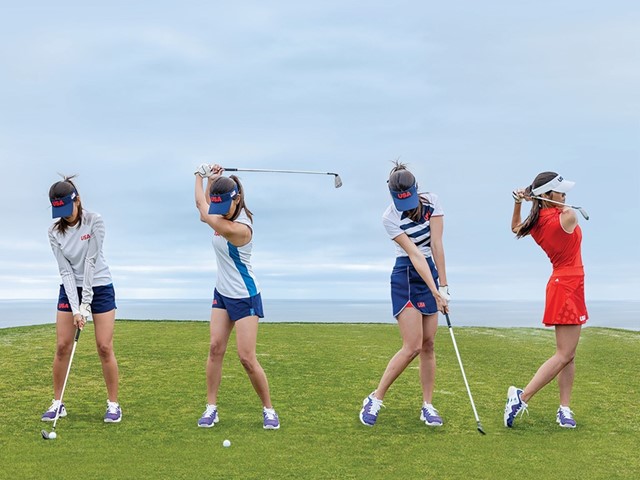 Golf has seen a huge surge in popularity around the world over the past year, so we look forward to supporting USA GOLF athletes on the world stage when they compete in Tokyo next month.
This jersey capsule carries such a unique story from a design standpoint, but we've also made sure that our best material innovations are incorporated into the jerseys so that all players on the USA GOLF teams can play at the highest level.
Jeff Lienhart, President, adidas Golf
In addition to the men's and women's teams in Tokyo, adidas has outfitted both teams for the 2018 Youth Olympic Games and the 2019 Pan-Am Games. Casual golf clothing is also provided for player caddies and USA GOLF employees at all events.
Both Hiroko and the adidas team did a great job representing the United States with these uniforms. This was such a long awaited event
So we're excited to see these athletes finally compete on behalf of USA GOLF and know that these uniforms are made from the most innovative adidas materials so that all players can give their best.
Andy Levinson, Executive Director, USA Golf
This is our second time outfitting the USA GOLF team as we were the official uniform provider for USA GOLF in Rio de Janeiro when the sport was back at the event for the first time since 1904.
Official uniforms and additional USA-related gear will be available from July 1st on adidas.com, the adidas app and select retailers. *
* Product available in the US and South Korea only.