MADISON — By the power vested in me, I hereby designate Friday as Jerry Kelly Appreciation Day. Heck, let's stretch it through the weekend. Kelly will be trying to win a third consecutive American Family Insurance Championship title and whether or not he pulls it off, he'll make the $25 general admission ticket the best buy since Apple's IPO.
Ever the showman, Kelly is especially animated and engaged at University Ridge, just a few miles from his Maple Bluff home. He loves playing to the home crowd with exaggerated gestures, body contortions, Palmer pants-hitches and the occasional how-dare-you glare at a disobedient golf ball. People eat it up.
This is Steve Stricker's tournament but until further notice it is Kelly's show.
Beneath the schtick, though, is one of the fiercest competitors in professional golf. How did a guy who did next to nothing as an amateur win on three levels of PGA Tour-sanctioned golf, amass a fortune and regularly beat golfers with better pedigrees, better swings, better putting strokes, better golfing DNA?
Jerry Kelly reacts with a fist pump after sinking a putt to save par on the 18th hole during the final round of the 2021 American Family Insurance Championship at University Ridge.

Wisconsin.Golf photo / JIM KELSH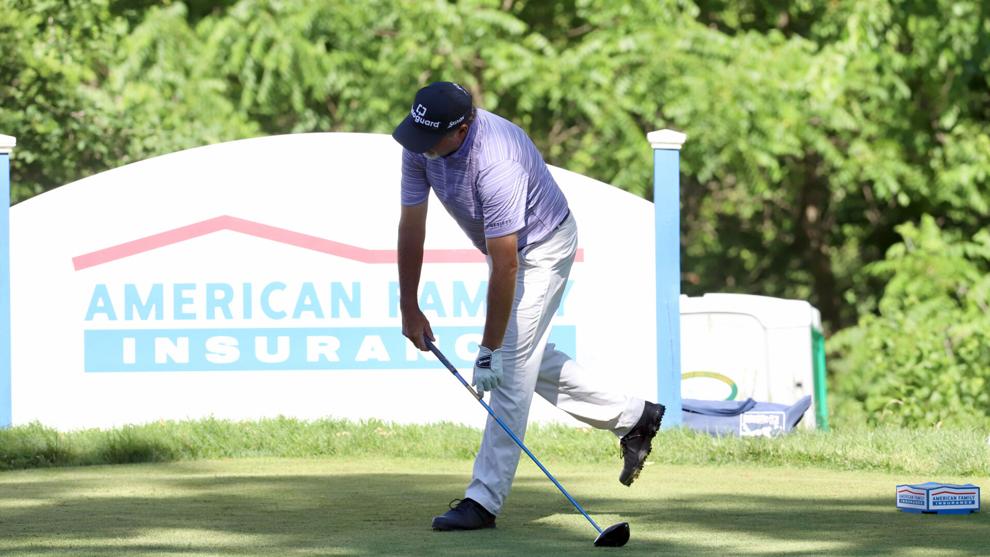 Madison's Jerry Kelly reacts during the 2021 AmFam Championship after watching his drive catch a fairway bunker on the 18th hole.

Wisconsin.Golf photo / JIM KELSH

Pull Quote
He loves playing to the home crowd with exaggerated gestures, body contortions, Palmer pants-hitches and the occasional how-dare-you glare at a disobedient golf ball. People eat it up. This is Steve Stricker's tournament but until further notice it is Kelly's show.
"I didn't know how to think of myself and my career over the years," Kelly said Thursday. "I always thought I could do a whole lot more, but people would look at me and go, 'How has he even done that?'"
We turned to David Duval for the answer.
"Consistency and persistence, pretty simple," Duval said. "And a lot of guts. I think he's a gutsy player."
Anyone standing idly on the range or chatting in the locker room who has been the victim of a blindside Kelly body-check — me, several times over the years — will testify to the sharpness of his elbows. There's a physicality about him that belies his modest size.
Combine that with a Mount Everest-size chip on his shoulder and some good, old-fashioned Irish dander — and I mean that in the most complimentary way — and you get Kelly, a hockey player/UFC fighter in a polo and Softspikes.
"He has this little bulldog mentality," said Stricker, who knows Kelly as well as anyone. "He's a fighter. He's a hockey player and that's what he learned growing up, and he took it to the golf game."
In my book, Kelly has done more with less than just about anybody who plays golf for a living. If you didn't know better, you would watch him on the range, hitting balls next to Fred Couples or Retief Goosen, and think, "This guy is in the field?" He once described his practice round swing to me as that of a 6-handicap. But when the lights come on, he's going to give maximum effort with maximum intensity. Most importantly, his self-belief is off the charts.
Kelly's record in any one year will not evoke comparisons to Tiger Woods, but his record over 30 years is beyond impressive.
He won twice on what is now the Korn Ferry Tour and was its leading money-winner in 1995. He won three times on the PGA Tour, earned at least $1 million annually for 11 consecutive years, made 401 cuts and had 196 top-25 finishes. He has won nine times and counting on the PGA Tour Champions, including the Principal Charity Classic on Sunday, and has 54 top-10 finishes in 114 starts.
Only one player has beaten him over the last three editions of the AmFam Championship: Scott McCarron, in 2018. His scoring average at University Ridge is 67.75.
"If I beat Jerry, then I should be able to probably win the thing, because he's right up there all the time," said Stricker, whom Kelly beat (along with Goosen) in a playoff here in 2019.
Last year, it was Couples who tasted defeat, losing to Kelly by one stroke.
"I fought pretty hard," Couples said. "I birdied 16 and 17 and I think if I remember, he made a nice par putt on 18 and I bogeyed it, which was really a depressing thing."
Couples would have been the gallery favorite just about anywhere else, but not at U Ridge. The place went bonkers, and the Kelly clan celebrated for an hour on the 18th green. The lasting memory is that of Jerry riding around on his mother Lee's mobility scooter with a crazy grin on his face.
Kelly has never been long off the tee. He was short by PGA Tour standards and is middle-of-the-pack on the Champions tour. But he rolls out of bed and hits fairways, having finished no worse than fifth in driving accuracy every year since 2017 (he ranks first this year at 85.01%).
He led the Champions tour in greens in regulation in 2019 (73.53%) and is No. 2 this year (76.16%). And his short game doesn't get talked about enough. He was No. 1 in scrambling in 2019, is ranked second this year and has never finished lower than 14th in that category, which in large part reflects a golfer's grit and resolve.
When people think of Champions tour players, they think of Bernhard Langer for his durability and age-defying achievements; Stricker for his likability and consistency; John Daly for … well, for being John Daly.
But outside of Madison and Tucson, where Kelly hosts the Cologuard Classic, he probably doesn't get the recognition he deserves.
"I go through this stretch like I just had and I'm looking on the power rankings (a weekly tournament preview on pgatour.com) and I'm not even on there," Kelly said. "It's like, all right, get that chip going again and get yourself back up there to where you are being talked about."
He can be irascible. He can be funny and charming. He can be a little bit of a pain in the butt (don't ask me about the time he angrily blew me off after a long-ago BMW Championship, which he certainly won't remember). He can be warm and caring (a text message when I had COVID-19 deeply touched me).
Above all, appreciate him, as I do, for being a winner.