A calm, sly guy who came out of nowhere led his team to victory this week. Leighton "Deer" Hunter won for the third time and was +7, which most connected him to Bob "Flower" Tower. That's two points in a row for Flower. Don't think it didn't get the league's attention.
A couple of guys made solid efforts to add Deer Hunter totals, Bob Roy "Rogers" and Brent "Smiley" Lussier were in the +3 range. Only Wendell "No" Sweatt was minus, but even his poor performance could not keep this club out of the circle of winners with +12.5.
Mike "Stewey" Stuart tries to remember which hands go where on the golf club. Needless to say, he was part of the Dumpster Fire team.

Wynn Paradee

Dumpster fire: In a day of action, none was bigger than the return of Mike "Stewey" Stuart, who played Broe with his two students, Gary "Ringo" Jacobs and Bert "Eraser". Somehow, Paul "Hack" Hatch ended up in that crowd. They didn't disappoint because they won the Dumpster Fire Award because they were the most under the points with -4. After seven holes, Stewey confided in Winston to call Cassella because they pretty much had the dumpster wrapped up.
Crash and Burn: Bob "Bone" Mero linked Ringo with -7 for most under to share the Crash and Burn Trophy for most under.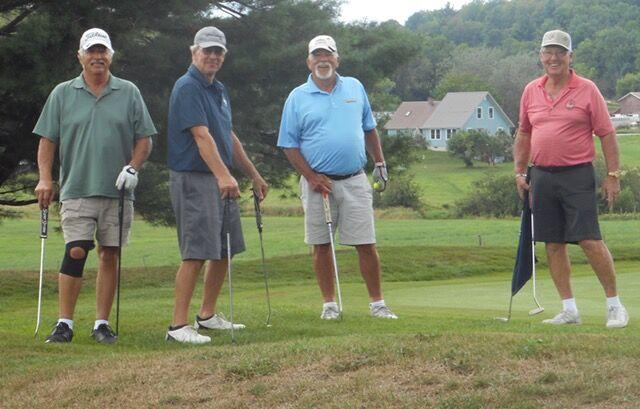 Fran "Wham Bam" Bertrand, Andy "The Bus" Jette, Harold "Hair Hole" Bessette and "Tricky" Dick Delorme. Wham Bam won the closest to the pin despite being 15 feet away.

Wynn Paradee

Closest to the pin: Fran "Wham Bam" Bertrand won the closest to the pin with a 14'8 inch shot that even he didn't think would win when he went home. Then there is the guy who has been in the league for five years and has probably been mentioned twice up until this season. Probably last at the end. He's taken three top spots, won multiple skins, and has now won four of the 50-50 draws. Lisa claims she doesn't prefer him in any way, but four out of 15 drawings? Dan "The Fish" Poissant raised another $ 80 and made people wonder, "How does he do this?"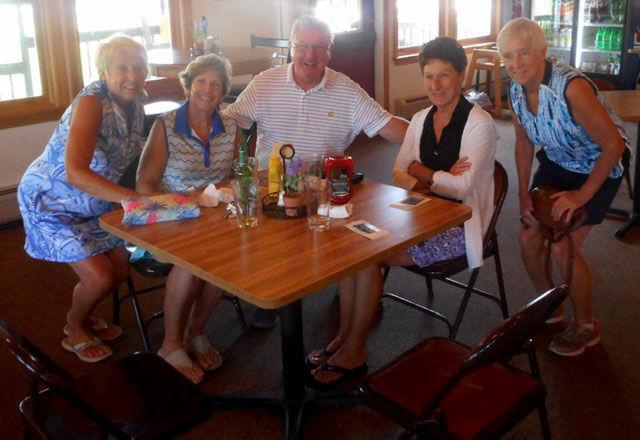 Women's League members Lorraine Mercy, Jan Gill, Suzie Ewins and Deb Slover in obvious negotiations with Chris "Blue" Gill to join their league if the men's league goes down. No decision was made.
The Ball Hound makes it big! One of the few bright spots on the Dumpster team was when Eraser's grandson Jake the Ball Hound showed up and found a record of 83 balls, some of which Stewey lost again.
When a guy like Chris "Blue" Gill has a finish last week, it pays to keep your options open. He was seen today negotiating with four members of the Women's League, possibly to join that league if the men's league went down. He was +4.5 today, so he's safe for now.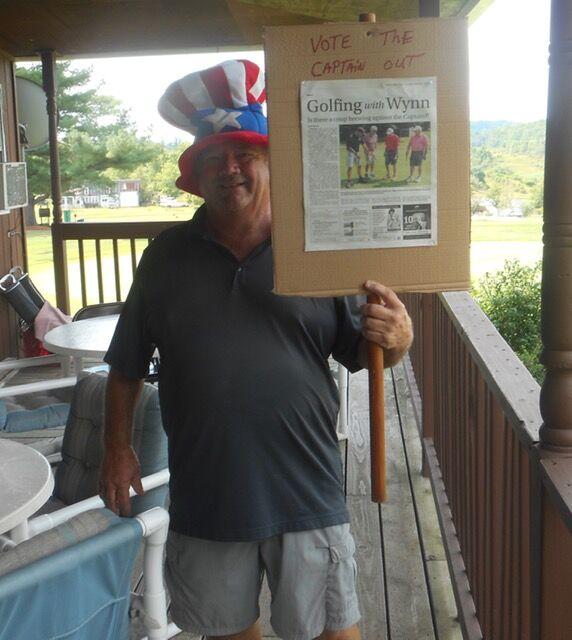 Bert "Eraser" Broe campaigns for the captain to be removed from the league. According to Eraser, the ballots will go out in the fall.
Out with the captain? Eraser was in full campaign mode today as he was carrying a sign that read "Choose the Captain Out". It would be an Australian ballot to be sent to members' homes this fall. The captain replied that the reason he's called an eraser is the fact that everything over his shoulders has been erased and replaced with pulp. That could be ugly. There must be a lot of money behind it somewhere.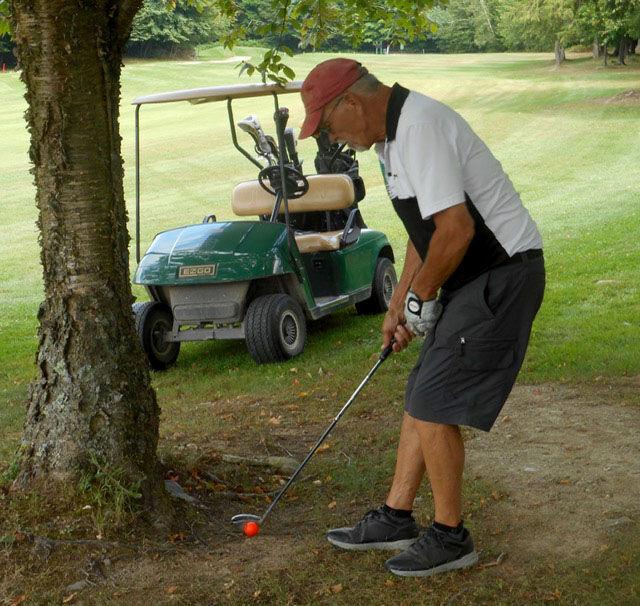 Bob "Bone" Mero demonstrates just one of the ways you can be -7.

Wynn Paradee

Ask bones: A league member asks, "Does the p on the end of my club stand for putter? I don't get along with it that well. Please advise. "As usual, Bone approached the plate." I bought a new golf bag. It only has 14 places to place clubs and I have so many hybrids. My thoughts are that I have two bags with one I'm going to tie bungee laces so I can carry all of my clubs. "