As you might imagine, keeping a multi-billion pound global industry moving requires that some poor folk have to actually work within the sport! However, with almost no limit on the number of these roles – what are some of the most popular, and how do you go about grabbing one of these? This list is by no-means exhaustive, but in-keeping with the subject itself, check out our 18 (see what we did there…) best jobs to have in golf – in no particular order!
Professional Golfer
Ok, I know we said that this list was in no specific order, but if it were, this one would obviously be top of the tree. Travelling around the world playing the greatest sport on the planet? Sign us up! However, buyers beware, it's not all the glitz and glamour that you might see on TV. The guys at the very top are undoubtably living a bit of a dream, but the vast majority of professionals are grinding out a living on one of the many development tours which lead up to the PGA Tour and DP World Tour. This can be tough, with small purses, and high travel costs. Still, it's playing golf for a living, which is surely a good enough reason to get out of bed in the morning!
YouTuber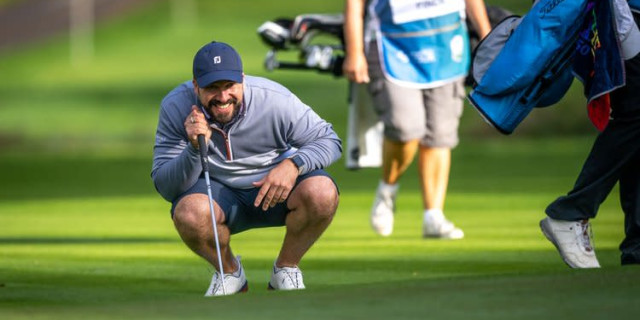 This one's not for everyone, and the space has become increasingly more crowded, but if you're comfortable in front (or behind!) a camera, then there's now an extremely credible living to be earned as a golf YouTuber. There's a million different avenues you can go down with your channel, from club reviews to challenges, to content altogether less serious. Brands and destinations may even pay you to come along and showcase their offerings! Word of warning though, in the decade or so that the most prominent YouTubers have been around on the platform, there's not a lot that hasn't been tried. So if you are thinking about a career in this space, it's best to do some research into existing content and see how you can add something original to the list.
Golf Journalist
No thank you, all the golf writing jobs are taken. Move along please.
But seriously, writing about golf is (almost) as enjoyable as playing it. Whether you work full time for a media publication, or freelance across multiple businesses, there's very few things more fulfilling than seeing a positive reaction to something you've written about the sport. Most publications are eager to hear from those looking to get into this space, we're generally a nice a bunch, so if you are keen to explore this avenue further, there'll always be people around to help!
Presenter / Commentator
Maybe your talents for reporting on the sport are best done in front of camera or behind a microphone. Alongside the plethora of past-professionals that you'll see and hear from on the back nine of a Sunday, there are also many that have come from a non-playing background who are often some of the most well-researched and articulate voices in the sport. With the introduction of new professional tours, there has never been a bigger need for more talent in this space … could it be you?
Golf Club Pro / Assistant
A great way to help others into the sport, whilst passing on your own knowledge to those eager to learn. Golf clubs wouldn't be the same without your local pro, with them coming in all shapes, sizes, sexes and levels of ability. Being a club pro can keep you around the sport for life, with your role often integral to the club's successes. There's some early hours, and weekends are commonplace, but on the plus side, you can also walk from your office to the first tee in a matter of seconds… 
Golf Club Manager
Again, another job that positions you at the heart of the club. Whether you're looking after a small, local course, or a larger resort with international visitors, being a Golf Club Manager is not without its challenges. Committees have opinions, members have opinions, guests have opinions, heck, even your own staff will have opinions. But if you can take all of these in your stride, it's a brilliant way of leaving a lasting legacy within the businesses you touch.
Golf Marketeer
One of the most common roles within the sport is helping to promote its products, services, and destinations. You could work in-house for a big equipment brand, or for a golf-specific agency, or even for a golfing destination – your job is to get people as excited as you are about whatever it is your business does. With roles from entry-level assistants, to Chief Marketing Officers, there's plenty of options for those with a passion for marketing.
Sales Rep
Maybe sales is more your bag? Like with the marketing jobs, sales guys and girls can be found across the industry, with the added benefit of many of these jobs being remote. That is to say, traveling around an area of the country and promoting a product or service, and then closing the deal. These roles are often incentive with bonuses and sales targets too, great for those driven by hitting a number!
Tour Technician / Club Fitter
Fancy yourself as a bit of a professor of clubs? The world's best players don't fit themselves, and neither does the average golfer when they go for a custom fitting for their new big stick. Whether you want to head out on the road, or work from a base, being a golf club expert is a highly skilled role, which is only going to become more important in years to come.
Online Business Owner
The new golf economy has opened the doors to thousands of budding entrepreneurs to enter the golfing workforce. From simple online retail outlets, to scoring apps, to golf communities, there's no end to the scope for working in the industry – so long as you've got a good idea, and the drive to get it off the ground!
Greenkeeper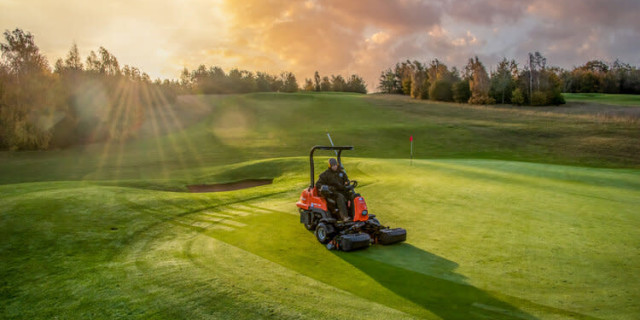 Speaking of the ground … One of the hardest working, and most important jobs in the industry. Modern day greenkeeping is almost an entirely different discipline from the days of Old Tom Morris, with the current team tasked with being an expert on absolutely everything about their course's agronomy. From the levels of thatch, to the amount (and cost) of pesticides, through to the operational skills for their ever-more-complicated machinery. But, when the sun's out on a warm early-Spring day, it can be one of the most joyous jobs on the planet.
Sponsor
Perhaps you already have a career that you're keen on, but you're looking to tie it in with the sport? One of the most common ways of achieving this is as a sponsor. You could advertise with an individual player, or perhaps put your name to an entire tour! There's really no limit to the amount of areas of the professional game that sponsorship can open up – and so if you've got a need to speak to one of the most affluent audiences in the world, perhaps chucking some cash at a sponsorship opportunity might be your ticket into the sport!
Golf Tour Operator Employee
If you haven't been on a golfing holiday, we bet you've at least thought about it? How about being one of the team that makes that reality happen. Big tour operators such as Golfbreaks will send away more than 200,000 golfers every year on their travels. This requires a decent level of staff; from product managers to source new venues, to marketeers, a sales team, customer service, finance, HR, and much more. It's a fantastic side of the industry to work in, and can provide you with your own chances for international exploration!
Golf Agency Employee
Golf-specific agencies have been around for a long time. One of the first to be dedicated to the sport was IMG, famously created by Mark McCormack and Arnold Palmer. Nowadays, these types of companies help with everything; from running tournaments, to managing players, to helping with marketing and PR, or even to help with the optimisation of commercial opportunities (such as the sponsorships mentioned above!). A career within a golf agency is a fantastic way to develop multiple skills at the same time, across different companies, and a side of the industry that'll introduce you to perhaps more different connections than any other.
Recruiter
Well, almost. The job that will definitely introduce you to more people than any other is that of the specialist golf recruiter. Like any other industry, an intrinsic knowledge of the entire workforce is immensely valuable, and a service that touches every aspect of the golf business. Recruiters within golf are some of the most trusted sources within the entire industry.
Research & Insights Specialist
Never has the industry benefited from more knowledge. Like other sports, golf has enlisted the expertise of various teams of statisticians, researchers, and various other boffins! From collated data to what equipment is being played on the world's leading tours, through to analysing the golfing populations, or looking for a killer advantage for the European Team in the Ryder Cup – there's all sorts of roles now available within the sport for those with a nose for numbers!
Photographer / Videographer
Fancy traveling around the world with sport without the need to break 70 each time you go out? The industry has a constant need for those to capture iconic moments out on the course (as well as static shoots in a studio!). The nature of these roles mean that you're rarely heading to places that aren't all that picturesque.
Coach
Mind coach, swing coach, putting coach – elite golfers regularly travel with an entire support team, creating numerous opportunities for supporting these athletes in their endeavours around the globe. However, recent years has also seen an increase in the club member enlisting this more specialised help, with some of the most sought-after coaches doing their own travelling to deliver clinics or 1-on-1 lessons in various aspects of the game.
Image Credit: Kevin Diss Photography