BY BRENT STUBBS
Senior Sports Reporter
bstubbs@tribunemedia.net
THE first 9-hole golf tournament at Flamingos Women's Golf Club 242 was such a success that both the organizers and the participants are looking forward to the next event.
At the tournament, which was held on the driving range of the Bahamas Golf Federation on Saturday, the team led by Dr. Patti Symonette, Templa Kemp-Lightbourne and Rachel Quant won the first title with a score of 30.
The team of Christine Malarad, Roberta Quant and Anja Charles finished second with 31, while Agatha Mona Delancy, Vanria Munnings and A Pamela Thompson finished third with 33.
The tournament was organized by the Flamingos Women's Golf Club under the direction of Agatha Delancy. Alena Hutcheson, the only Bahamian LPGA Class A teacher in the country, presided over the tournament. About her team's winning performance, Symonette said she was quite impressed.
"First of all I would like to say that it is really nice to see women again and to support the sport of golf. Kudos to Agatha and trainer Alena, I think they did a fantastic job with the resources they have.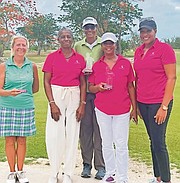 "As for my team, we had a young player in Rachel, but I encouraged her. I told her there are two sports. That's golf and tennis because you can play both into old age. "
Symonette said she was happy to lead the team and use some strategies to win.
Former basketball player Roberta Quant, who has only spent the last three weeks on the golf course, said she got into the sport because she wants to challenge her father, Chinese ambassador Sterling Robert Lloyd Quant, when he returns home.
"It was interesting. I hit some good balls, but my ball also found the water a few times," said Quant, who was particularly pleased about her other two teammates, Malarad and Charles.
"You have to practice in all sports. I think once you put the work into it, you will excel as I do in basketball. But it was good to play with the team I had out there. We will be very good together. "
Patryce Curry, a former track and field athlete who works with the Bahamas Association of Certified Officials, said she was looking for something to do when she retires and she feels that under Hutcheson's coaching she found the sport.
"It was a very good experience today," said Curry, who teamed up with mother-daughter duo Shervonne Johnson and Kyra Issacs. "We were studying while we went on."
Hutcheson said the event went flawlessly.
"The only thing I think we need to improve is the pace of the game, but we can do that," she said. "We're looking forward to the next tournament next month.
"I think they did better than I expected. We got good results from all teams today. If others want to join in, they can check out our Flamingos Women's Golf Club 242 Facebook page, which will keep everyone updated. So everyone can come down. You don't have to have clubs. We provide them as well as lessons and golf balls. "
Players ages 14 to over 70 are invited to join the Flamingos Women's Golf Club.
Delancy said that when the Flamingos Club was founded two years ago, the intention was to get more women involved in golf.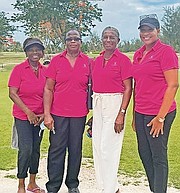 "Over the past six months I can say we've seen phenomenal growth and under coach Alena we've seen women return to the sport and a number of first-time contenders," said Delancy.
"The event was very well organized. We now hope that the number of participants at our second event will be significantly larger.
"Who knows, maybe we'll play it over 18 instead of nine holes. But we had a very important start with great potential, "she said.
Hutcheson thanked Pirates Republic, Cotton Tree Convenience Store, Kenny Fountain, the Ladies Division of BGF and Craig Flowers for their sponsorship and use of the facilities for the tournament.