Mark Hess got his start in golf by building his own golf course. Up to that point he hadn't had much use for the game and the few times he saw it on TV he thought it was a boring way to spend a day.
Then in the 1980s he lived one winter on the vineyard and didn't have much to do. He had recently dropped out of Hobart College and was looking after a property in the Tower Hill area of ​​Edgartown. The owners had left a bag of old clubs and he started hitting a few balls around the property. He then went all in and cut nine holes through the fescue with a 24-inch mower (it was a wild place and the grass would grow back by summer when the owners arrived).
If it seems like a crazy task for a young man who had only set foot on a golf course once as a caddy and quickly walked the other way, consider this: a few years later, in 1987, Mr. Hess would do become manager of Edgartown Golf Club, a position he holds to this day as he nears his 34th year there.
Obviously that little voice driving him knew exactly what it was doing.
Mr. Hess recently added an author to his impressive golf resume with You Don't Have a Prayer, a tribute to his workplace.
Edgartown Golf Club was founded in 1926 by Cornelius Lee, who, like Mr. Hess, had a vision and largely implemented it himself. In love with the Old Course at St. Andrews, Mr. Lee decided to build a similar course on his Edgartown estate, writes Mr. Hess in the first chapter of his book, which takes the reader deep into the club's history.
The golf club founded in 1926 maintains the old ways and traditions.
"No architect was employed and the only help he had was Bror Hogland, who was the first greenskeeper," writes Mr. Hess. "Mr. Hogland said the only help he had was from Cyrus Norton leading a horse provided by Orin Morton to plow the fairways, tees and greens."
The spirit of those humble horsepower roots continues at the club today, said Mr Hess on a recent morning in his office, which in fairness should not be called an office as Mr Hess openly admits he doesn't really have a job. it's more of an administration.
"Edgartown Golf Club is a place in time," he said. "I don't feel like I have a job here, it's a place in my life where I can use my innate talents. I'm up here at 5 a.m. all year round, I just love being here."
That's not to say he's not busy; There are a thousand things to do every day to keep a golf club running smoothly. It's just that he's clearly hit a hole in one when it comes to employment. He knew this when he saw the track for the first time and can accurately reconstruct the moment if asked.
"It was one of those perfect Vineyard summer days that you get maybe 10 times a year," he said. "And the whole look of the place just looked like a masterpiece of a painting."
But telling his own story wasn't the reason he wrote the book, he said.
"It was about documenting the many historical aspects of the city's golf club, that was the main reason for doing it," he said. "And then it snowballed into my story. And then, finally, how important the job has become in my life."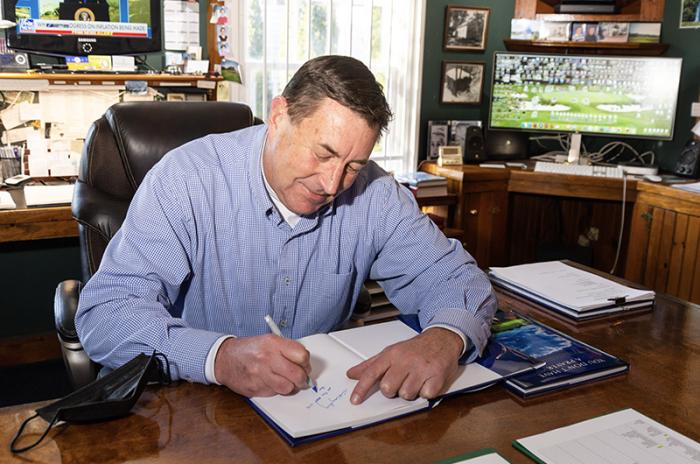 The author signs a copy of his new book. Call the club to arrange a purchase appointment.
The book appeals to club members and golfers, of course, but also to non-golfers interested in a piece of Vineyard history and the many household names associated with it. The book is divided into chapters that allow the reader to wander through many of the fairways, from past presidents of the club to members, staff, stories, events and even a tribute to other golf clubs in the vineyard.
The project started in earnest about three years ago, Mr. Hess said. He had written short anecdotes about the club's history and published them on the website. Gradually, the stories added up. He researched old articles in the Gazette and spoke to members who remembered stories about their fathers and mothers who were also members. From its inception, the club has granted full membership to women, a rarity in 1926.
Another lasting legacy is no tee times. Never had and never will, said Mr. Hess. When asked why not, the answer came immediately.
"Because then the phone would ring," he said, laughing.
He continued on a thoughtful note, explaining that no start times go back to a simpler Vineyard time.
"They just come here and play whenever they feel like it," he said. "It allows for spontaneity, which is the essence of what it used to be like to come here in the summer. You could just do whatever you wanted without making any plans."
The course layout was inspired by the "Old Course" at St Andrews. —Ray Ewing
On Saturday morning, despite single-digit outside temperatures, members spontaneously came to the club to buy a book and have it signed by Mr. Hess. Conversations always started with the book, congratulating Mr. Hess on his achievement, but then quickly shifted to the kind of small talk one associates with a tight-knit community — asking about the health of relatives, recalling memories, sharing jokes.
Barbara Morgan stopped by, eager to get a copy and to reflect on her father, Ted Morgan, a city father and the club's longest-serving president, whose presence is evident everywhere, in the book, in photographs on the wall, even in a flag to be raised throughout the year on his birthday.
Mr Hess recalled the memorial ceremony the club held for Mr Morgan following his death in 2019, including a military transfer. The club's flag was flown at half-mast and then brought down and given to his daughter.
"Then she gave it to me and asked that it be flown every year on his birthday," said Mr. Hess.
As morning turned into afternoon, bookbuyers slowed to a trickle and then came to a halt. Outside, the wind was still whipping across the fairways, the temperature was around seven degrees, and at least not a soul was to be seen on the pitch.
"There's a group of people who usually come out around two o'clock every day," said Mr. Hess.
And today?
"I would be surprised. But I wouldn't be surprised either."
You Don't Have a Prayer is available from Mark Hess at Edgartown Golf Club. Call the club at 508-627-5343 or email Mr. Hess at [email protected] Price is $49.95 plus tax.