Golfshake's Derek Clements comments on last week's headlines in golf …
Rory McILROY is a man who speaks very sensible, and he did it again on the eve of the US Open when he called on the PGA Tour to ban green books. As Rory points out, reading greens is a fundamental skill in the game that has been removed by constant reference to those awful books that also add to the funeral pace of play we see week after week. McIlroy also says it's time to look at anchoring once and for all – he wants the method used by the likes of Bryson DeChambeau, Webb Simpson, and Matt Kuchar to be outlawed. And he's absolutely right about that. No matter how you look at it, pressing a longer putter against your left forearm is a form of anchorage and should be prohibited.
BROOKS KOEPKA says his feud with compatriot Bryson DeChambeau is good for the game. I have great respect for Koepka, but in what universe can what happens between these two be good for the game?
It all started when Koepka called DeChambeau about his playing pace – something he deserves high praise for. But the bickering is childish and is causing a massive headache to US Ryder Cup captain Steve Stricker as they are sure to be teammates in Whistling Straits. Stricker has called for an end to the feud – and rightly so.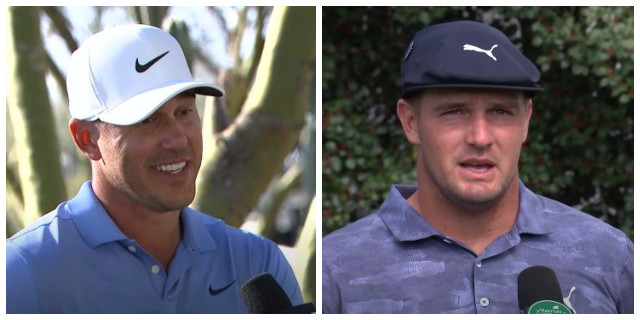 WHAT on earth has the world become? An American professional was arrested after a fight broke out during qualifying for the Wichita Open last week Korn Ferry Tour Event. The incident took place at the Sand Creek Station Golf Club in Kansas. Luke Smith was arrested after an argument with his play partner Austin Dailey. Smith apparently took offense at Dailey's pace of play, while Dailey was upset at Smith's refusal to help him find lost balls or maintain the pin. The spirits boiled over on the seventh par 3, where Dailey had to look for his ball on his own again before confronting Smith on the green. Dailey reportedly said helping him hunt for balls in the rough would quicken the pace of play, while Smith reportedly countered with some frank opinions about Dailey's performance. Smith then reportedly physically assaulted Dailey while his father tried to fend off attempts to end the fight. It is believed that the group of players behind it notified the club of the altercation and Smith was brought back to the clubhouse before his arrest.
THE new chairman of Scottish Golf timely warned clubs not to feel complacent about the recent surge in attendance, saying they need to be as welcoming as possible. Martin Gilbert told The Scot Newspaper that there was still a "fear" of joining golf clubs that should be eliminated and that clubs need to relax the rules, especially the dress code. He said that while membership numbers increased during the pandemic, growth should not be "taken for granted" as the sport declined at an alarming rate before the trend reversal. Golf clubs in Scotland have seen an increase in player membership over the past year. "But what we don't want to do is take this growth for granted and believe that it will continue. I think we just have to be careful not to think that the problem is gone in the long run. We really have to try to build on last year's success this year. We have to let the game grow and that would be my great ambition. We need to encourage participation at a younger age by encouraging clubs to take away the fear that you have to be a good golfer to join a club. Lots of people are scared of getting in and out of golf and that's what we're trying to overcome. "Gilbert makes a lot of sense and his message applies equally to clubs across the UK.
Be part of the action with a selection of unique golf tournament experiences, from playing a pro-am with the stars to watching the action at the most iconic golf events. Whether Masters or The Open, The Ryder Cup or WM Phoenix Open, put together your individual package with the experts at Golfbreaks.com.