MOUNT HOREB — Nolan Krentz had just been presented with a plaque commemorating what is believed to be the world record for the most golf holes played in one year, posing for photos with Wisconsin State Golf Association executive director Rob Jansen and accepting the congratulations of fellow members at Norsk Golf Club.
Not that Krentz wasn't grateful, but the first tee was calling. There were still 3 hours of daylight left, time enough to get in another 36 holes.
Nolan Krentz gets ready to play more golf at Norsk Golf Club in Mount Horeb. 

Wisconsin.Golf photo | GARY D'AMATO

No sooner had the ceremony ended Monday when Krentz made a beeline for his van, unfolded his push-cart, loaded his well-worn clubs and slipped into even more well-worn golf shoes. He stopped just long enough to pose for one more photo — his expression said "Make it quick, please" — and then he was off and running. Or, at least, walking briskly.
This is Nolan Krentz's life. Get up and drive to Norsk before the sun rises. Play as many holes as possible — always walking and pushing a cart — around his job at Hy-Vee Grocery Store and his coaching gigs at Mount Horeb High School (boys' and girls' golf) and Iowa-Grant High School (boys' basketball). Go to bed. Get up and do it again.
"The joke is that I should have my mail delivered here," Krentz said.
In 2020, he played a staggering 17,766 holes, an achievement noted in a story on Wisconsin.Golf. Last year, he beat his own record by 54 holes, racking up 17,820 holes — an incredible 48.82 per day — and playing his final round on Dec. 26. Because he played 54 holes on a course in East Dubuque, Iowa, the plaque he was presented with noted that he played 17,766 holes in Wisconsin in 2021.
The 17,820 holes played while walking is an unofficial world record. According to the Guinness Book of World Records, the record is 14,625, set by Chris Adam of Canada in 2012. A golfer named Barry Gibbons reportedly walked 15,804 holes in 2016, which was said to be the unofficial record until Yancy Methvien walked 16,398 in 2019.
Krentz, 31, has them all beat, and by a considerable margin.
"By the numbers it is a record," he said, "but by the people who recognize (records), it's not."
Guinness requires a logbook and witnesses for every round, so Krentz's record is unofficial. But ask anyone at Norsk, a nine-hole public course, and they'll tell you that he plays multiple rounds every day, rain or shine, hot or cold. He stops only when snow on the greens prevents him from putting.
"He's been playing over 15,000 holes every year since he was basically 20 years old," said Brandon Larson, who was tending bar at Norsk and has known Krentz since their days at Mount Horeb High. "He's in our parking lot an hour before sunrise. As soon as he can see anything at all, he'll be out there playing.
"He plays the same nine holes over and over and over. I told him, 'If you let me play Pebble Beach for the rest of my life, I don't think I would play it that much.'"
As of Tuesday, Krentz had played 15,426 holes this year, almost all of them at Norsk. He is ahead of last year's pace.
"The goal is 18,000, whether it's this year or whenever," Krentz said. "I'm 300 and some nine-hole rounds away (actually 286). Hopefully, Mother Nature cooperates. Three years ago, we had snow on the ground on Halloween. You just never know."
Every day, Krentz, a creature of habit, arrives at Norsk about 30 minutes before sunrise, parks in the same spot and waits for daybreak. As soon as there's enough light to see his ball in the air, he's off. He typically plays nine holes in 37 to 40 minutes. A slow round, maybe toward the end of the day, would be 45. He doesn't bother to tee up his ball on the par-3 holes, simply tossing it on the ground and whacking it.
The members all know Krentz and wave him through, though public walk-ons are sometimes caught off-guard when he races up behind them. He's usually out of sight within a minute or two and has been known to lap foursomes, which is some feat on a nine-hole course.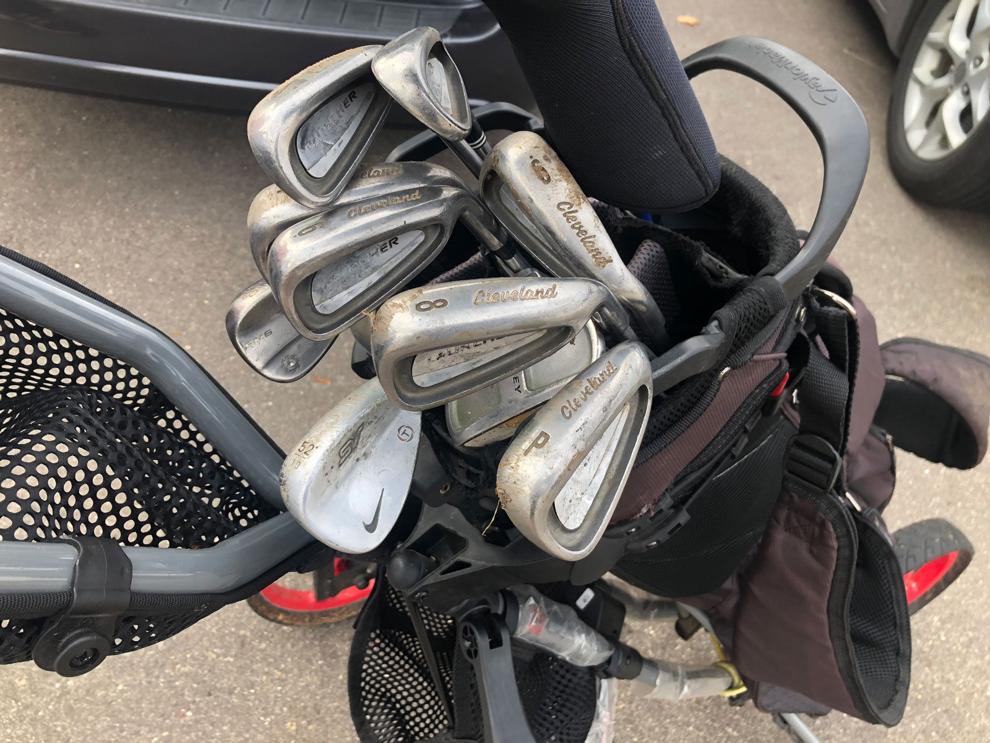 Nolan Krentz's well-worn clubs. 

Wisconsin.Golf photo | GARY D'AMATO

"Some people say he's obsessed," said Charlie Jefko, a member who helped organize the ceremony Monday along with fellow member Wayne Haskins. "There's all kinds of labels that people put on him. But I think it's an activity that he loves and enjoys. He is compelled to come out and do it, obviously."
Here's the other interesting thing about Krentz: he plays strictly by the rules and putts out everything, even the two-inchers.
"If I tee off and can't find my ball, I'll walk back and re-tee," he said.
That's a rarity because a) it's hard to lose balls at Norsk, and b) Krentz plays to a scratch handicap. His best score on the par-36 course is 30.
Every year, he wears out one or two pairs of golf shoes and one push-cart. He uses golf balls until they crack or are almost unrecognizable as dimpled spheres. He doesn't keep track of his steps but plays 72 holes a day in the summer, which works out to roughly 20 miles.
One day a couple of years ago, he played from sunrise to sundown and walked 144 holes. That's 16 trips around Norsk, or about 40 miles. Outside of occasional shin splints and sore feet, his body has held up remarkably well.
The questions that begs to be answered is, why does he do it?
Krentz doesn't have a good answer. Why does anyone do anything to excess? Some inner something pushes him. He loves golf, obviously, but a lot of people love golf and don't play 18,000 holes a year. Maybe the simple explanation is that he's wired to do this.
At some point, he acknowledged, he'll slow down. Maybe a significant other will come along. Maybe his body will start breaking down. Maybe he'll just finally get tired of it all.
"There will probably be a time when I dial back," he said. "But not this year."