Celebrating two weeks of links golf in the UK, FootJoy and Harris Tweed Hebrides have teamed up to create a truly one-of-a-kind version of the popular FJ Premiere Series golf shoes called the Black Watch Packard. And there is no dying, these are some classic, beautiful golf shoes …
And if you're interested in the Limited Edition Black Watch Packard Premiere, limited quantities are available on FootJoy.com RIGHT NOW.
The Black Watch cloth from the Harris Tweed Hebrides Heritage Collection was selected for this limited Premiere Series Packard shoe. The Packard was inspired by Frederick Packard, the founder of FootJoy and a shoe pioneer who drove the adoption of many modern manufacturing and design innovations that are still used today.
Despite its timeless design, the Packard is steeped in powerful innovation, led by the all-new VersaTrax + outsole that uses multiple TPU compounds to grip every surface: a harder TPU for grip on the court and a softer TPU for traction on harder surfaces.
The shoe also offers comfort, with an Ortholite EcoPlush FitBed with perimeter stability in the heel and super soft underfoot cushioning. Each shoe has its own unique piece of Harris Tweed Black Watch fabric on the saddle, with each pair having their own mix of blue, black, and green wool. Each pair also comes with a unique shoe pouch made from the same Harris tweed fabric.
Regulated by the Harris Tweed Act, the fabric must be hand-woven in the homes of residents of the Outer Hebrides, Scotlandto use the Harris Tweed name and logo. This preserves the integrity and the unmistakable character of the fabric, which is known worldwide for its quality.
Unusually, the wool is dyed before spinning, which allows a wide variety of colors to be blended into the yarn, creating a fabric of great depth and complexity. Harris tweed cloth has been made using truly traditional methods on the islands of Lewis, Harris, Uist and Barra for generations. Every year Harris Tweed cloth is exported to over 50 countries worldwide – every meter is hand woven on the islands and then inspected by the Harris Tweed Authority before it is hand stamped with the Orb Mark.
"It's an honor to have the opportunity to work with such an iconic brand. Harris Tweed was the original choice in the Outer Hebrides, an early innovation statement for golfers encountering challenging elements, "said Chris Tobias, Footjoy vice president of global footwear.
"The luxurious hand-woven wool is a strong addition to our modern classic shoes, both driven by authenticity, style and performance. "Harris Tweed Hebrides Chairman Brian Wilson, who accompanied FootJoy on his Hebrides voyage, said," Harris Tweed and golf are natural partners with a common a Provenance that dates back to the earliest days of the game. FootJoy has been a pleasure to work with as we share the same standards of excellence in quality and design. The Black Watch Packard is worthy of the best players and courses in the world. "
Cover photo via Instagram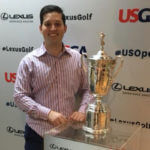 EQUIPMENT: Spieth Fit for new T100 irons, other Titleist employees will follow

– July 15, 2021

STYLE: FootJoy x Harris Tweed Hebrides Partners Release Special Edition 'Black Watch Packard' Premiere

– July 15, 2021

EQUIPMENT: New Callaway, Titleist, TaylorMade clubs discovered at The Open

– July 14, 2021

STYLE: Galway Golf debuts rainwear offerings in 2021

– July 14, 2021

WATCH: Guy almost loses his life at ACC

– July 11th, 2021

STYLE: adidas Golf releases special ZG21 colorway

– July 7th, 2021

STYLE: adidas Golf Reveals Official Olympic Uniforms for USA GOLF

– June 30th, 2021

TRAVEL: JSX offers direct flights to the Private Jet Center at Horseshoe Bay Resort

– June 30th, 2021

Jon Rahm lives his best life, pulls iron from the brick and celebrates winning the US Open

– June 24, 2021

EQUIPMENT: DJ parts with several partner brands for the Travelers Championship

– June 24, 2021
Show all posts
YOU MIGHT LIKE THESE STORIES TOO