The vision of the Traditions Golf Academy was to offer those who wish to practice the sport at college level an individual tuition in the sport while at the same time providing students with college preparation at the O'Neal School.
This has now happened when two golfers and their families moved to the area to take part in the first year of the academy. Nick Bradley, director of education at the academy, hopes this will help the foundation grow.
"We're a start-up, so by this time next year we want to double that number and have four or five," he said. "We know the product here is far superior to anything on the market, generally because of the area and facilities and the individualistic guidance that goes on the kids."
Registration for the next school year will open soon, Bradley said.
James Franklin, the O'Neal School's track and field director and director of the academy, said the academy was ahead of schedule after it was launched around this time last year.
"We're in the middle of a global pandemic, but we're having tremendous success," Franklin said. "What Nick did to get us on the map has been tireless. He's so student-centered. It's about them and they get better. Families really shop into this well-rounded product.
"Without COVID we would have registered 10 students now."
Several international prospects have turned to the program regarding future courses as they are currently unable to leave their country due to restrictions related to the pandemic, Bradley said.
The two, who started this year, bring different perspectives to the academy from their golf experience. The first class includes Fiona Surber, a 14-year-old from Fayetteville who is a relative novice to golf, and James Nagle, a 13-year-old from the Atlanta area who has had a club in his hand for as long as he can remember.
The families' move is evidence of what has been established over the past few months with the academy hosting week-long summer camps in the area that resulted in the couple going to school in the fall.
"There has to be evidence that they have received a great education and someone who is experienced at the wheel of the golf," said Bradley. "This is our niche compared to the other academies that we use in such a practical way. Everyone gets individual attention. "
James Nagle hits a shot from a bunker at Forest Creek Golf Club while Nick Bradley, Director of Traditions Golf Academy, looks on.

Ted Fitzgerald / The Pilot

Surber said the individualized training had helped her immensely over the past two months, as she entered the program with less than half a year of consistent golf training experience.
"It's a really great program. It's great fun and it's really based on you. It helps you become a better golfer in many ways, "she said. "I came from a program where a group of kids enjoyed learning to golf and it wasn't tailored to you or your needs. Since I've been here, I've had the attention I need and I've just become a better golfer. "
Nagle's hands are calloused from his affinity for working on his craft in the field. He has seen changes in his scores after installing swing changes since joining the academy.
"I didn't have a good coach in Atlanta, so I needed more classroom materials," said Nagle. "I shot two of my lowest laps just because I was here.
"It's a good program and I've learned a lot. When I got here I was hitting 200 (yards), now I'm hitting 230. I used to have a pretty short swing and it wasn't that powerful. Now I go parallel and shift my weight. "
Both have college golf and professional golf ambitions and already instill a daily work ethic that is required to help them achieve their goals.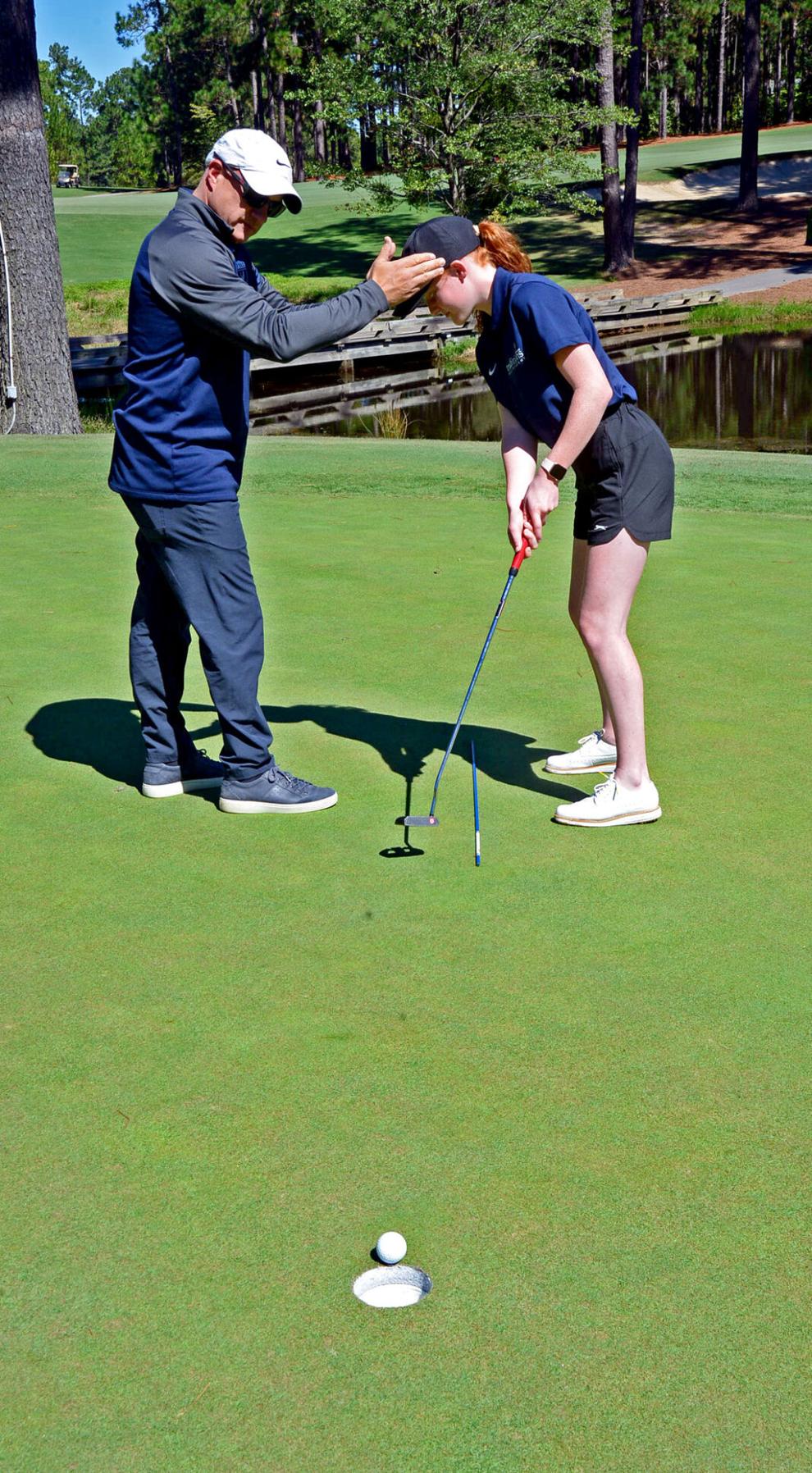 Traditions Golf Academy Director of Instruction Nick Bradley, left, works with Fiona Surber on the putting green at Forest Creek Golf Club.

Ted Fitzgerald / The Pilot

Training goes beyond school and hitting the golf course. Twice a week strength training from coaches who work at the school through BreakThrough Physical Therapy and Sports Performance, as well as mental golf training in the classroom and pool workouts are part of the regiment of junior golfers.
Both golfers said they never imagined pool breathing would be part of their workout when they entered the program.
"But it helps a lot," said Nagle.
That was Bradley's intention when he created the curriculum and training details for the Traditions Golf Academy.
"When you train at golf level, you just become a golfer," said Bradley. "My philosophy is to train 15 to 20 percent higher than golf so that everything seems easy during a competition."
As part of the Traditions Academy, Suber and Nagle will soon be participating in regional and national junior golf tournaments to showcase their growth on the golf course as a by-product of Bradley's teaching methods.
"The personal attention they get is beyond," said Franklin. "That's the main attraction, Nick's personal relationship with the families and students. You will see immediate results. "