The school buses drove in a few minutes before 3 p.m. on Monday afternoon. By then, a team of nine LPGA Tour players had already taken part in the morning wave of the Renee Powell Clearview Legacy Benefit at the Bobby Jones Golf Course in Atlanta. Those in attendance included Mariah Stackhouse, Mo Martin, Tiffany Joh, Jane Park, Maria Fassi, Leona Maguire, Brianna Do, Lauren Kim, Emma Talley and Caroline Inglis. And the buses brought more than 100 young children to a PGA REACH sponsored clinic.
It wasn't an ordinary Pro-Am and not because of the format. Professionals set out on a series of challenges to help fund the Clearview Legacy Foundation, a charity designed to continue the legacy of Renee's father, Bill Powell, and the course he hand-built in the family's home state in Ohio.
"I turned pro on June 28, 1967, so this date is the 54th anniversary of my career, and this year is the 75th birthday of my father who built the Clearview Golf Club, so this is a special time," said Powell. "My father literally hand-built the first 9 holes in Clearview with a shovel and a seed bag around his neck. He had just returned from Britain after the war. He could play golf there. Every town had a golf course and he was made to feel very welcome. But to his surprise, he found that not much had changed at home and that he wasn't welcome to golf clubs in Ohio. So he built his own course where everyone was welcome, regardless of race or gender, where you came from or what you did.
"My father wanted everyone in the game to be treated equally."
The LPGA went further by donating proceeds from the LPGA #HoodieForGolf to the Clearview Legacy Foundation.
"At the heart of the LPGA is a commitment to diversity, equality and inclusion," said Roberta Bowman, LPGA's Chief Brand and Communications Officer and co-chair of the LPGA's DE&I Task Force. "Renee Powell and her family play a unique role in the history of African American golf. Renee is a global ambassador for the game and continues to use golf as a vehicle for inclusion. We are proud to be part of this effort to celebrate Renee and her family and to uphold Clearview Golf Club and its mission to create a place where all people can enjoy the game. "
Players are encouraged to participate in numerous Monday Pro-Ams throughout the year. But few touch the heart of the LPGA mission like the one in Atlanta on Monday.
"Growing up as an Asian-American in the early 90s, I know what it is like to be different on the golf course," said Tiffany Joh. "That's why events like this and people like Renee Powell are so inspiring and so important. We've come such a long, long way in the game, but events like this are a reminder that we must keep moving. "
As the children sprinted to the Bobby Jones GC driving range, some carrying their own clubs and others hoping to pick them up at the clinic, said Ryan Cannon, Senior Director of PGA REACH, "We are excited to support this youth clinic. to continue this event as a whole and the legacy of Renee Powell. As a member of the PGA of America, Renee remains an icon and critical figure in the game and we are proud and privileged to have her as a member of the PGA. "
"I had the pleasure of meeting Renee for the first time yesterday and having dinner with her last night," said new LPGA Commissioner Mollie Marcoux Samaan. "Your story is really remarkable. She is such a pioneer. She changed the sport of golf and continues to change the sport of golf through her foundation. She works every day to create opportunities. The LPGA wants to do the same. We'd like to introduce the game to people who might not otherwise have the opportunity. And we want to change their lives through the game. "
This event would not have taken place without the generous support of sponsors, including KPMG and their continued commitment to women's golf and diversity. "When we first heard about the Clearview Legacy Foundation and the need, we were so inspired to get involved," said Shawn Quill, National Sports Industry Leader for KPMG US. "Together with Mariah Stackhouse and the LPGA we have come together and we will hopefully be a catalyst for change that is necessary not only to preserve this historic landmark but also to ensure that there is awareness of the need to cultivate diversity in the game the golf and overall. "
Stackhouse has long been a brand ambassador for KPMG. But she's known Clearview and the Powells a lot longer.
"My parents wanted me to be very consciously educated about the history of the game and pioneers like Bill Powell and Renee Powell and what they did to advance the game, not just for minority golfers but for everyone," said Stackhouse. "I think events like this can be part of a vehicle for change. Clearview Golf Course and what it stands for, breaking barriers and bringing all people together through the game of golf, we hope it continues like this. That's why we're here today. "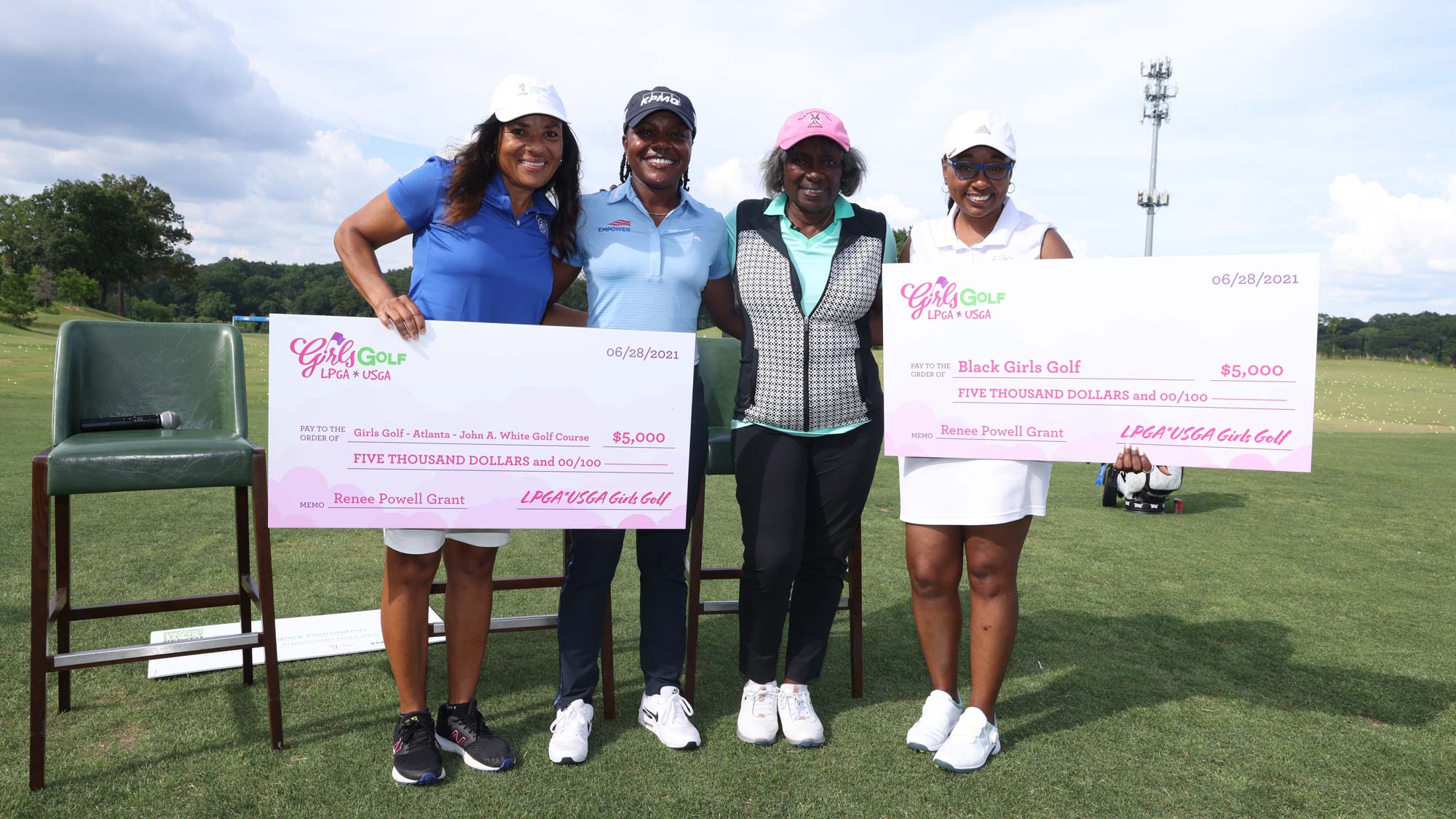 After Monday's Atlanta event, Powell burst into tears when she received a check for more than $ 200,000 on behalf of the foundation.
"For the next 75 years, Clearview's message is to continue to bring people together through golf," said Powell. "The game does not discriminate. The ball doesn't know your race. If you get it well, you play well and if you don't, well, you have to live with the consequences. My father thought there was a life lesson. And we're continuing that message today at Clearview. "